Samobor is a town on the eastern slopes of Samobor hills, situated at the exit of the picturesque Gradna creek valley to the Sava river plain. It is one of the oldest and most attractive resorts, only twenty kilometers from Zagreb, the capital of The Republic of Croatia and five kilometers from the Republic of Slovenia border. The border crossing at Bregana is one of the most important western entrances into Croatia.
The town has population of nearly 15.000, and in the surrounding area in 77 villages and places live 20.000 more inhabitants. Until 1993 13 villages of the municipality of Sveta Nedelja were part of Samobor, so the Samobor municipality had population of nearly 48.000. With the new territorial organization of The Republic of Croatia Samobor acquired the town status, and municipality of Sveta Nedelja became a separate administrative unity.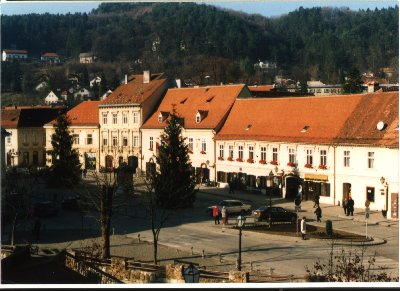 The Town of Samobor belongs to The Zagreb County. The town is run by Town Council, consisting of 26 councilors. 20 councilors are elected proportionally from the party lists, and 6 councilors are elected directly in constituencies. Last local elections were held in the spring of 1997. City Council appoints the executive authorities, consisting of the Town Mayor, two deputy mayors and Town Authorities of 13 members. The Town Mayor presides over The Town Authorities.